At Contemporary Vision Center, you can trust that you are getting a great value along with the most advanced eye exam and best vision care possible for you and your family. We have the latest technology to make your experience as easy and worry-free as possible.

We don't compromise on quality, care or service, but we don't charge more for them either. We have all seen and personally experienced care and service drop off in healthcare. At Contemporary Vision Center, you can experience eyecare like it should be … focused on you.

How We Compare to Those "Other Guys":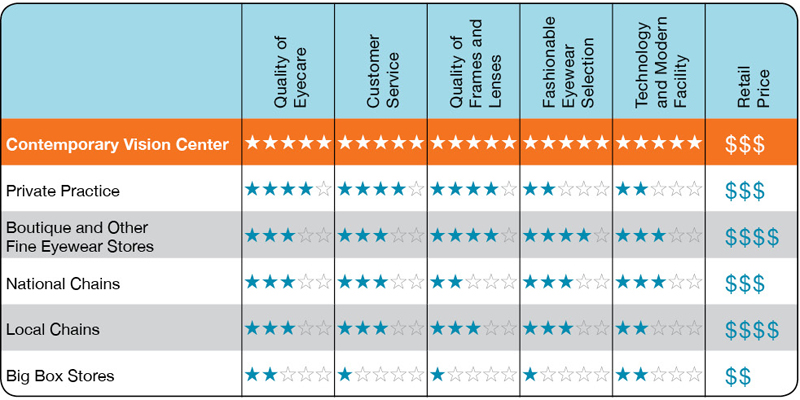 Most insurance plans accepted. We are providers on and accept most health care plans as well as most vision insurance and eye care plans including (but not limited to): Vision Service Plan (VSP Insurance), EyeMed Insurance, Vision Benefits of America (VBA Insurance), UnitedHealthcare Vision (UHC Vision/OptumHealth Vision/Spectera) Anthem, United Healthcare, Healthlink, Aetna, Humana, Metlife Vision and many more.

Ever feel like you "failed" your eye exam? With our Worry-Free Eye Exam℠ we can show you a different way. Instead of "better 1 or 2," we will let you see both choices at the same time. The result? A more accurate prescription allowing you to see your very best.

Don't like the "puff of air"? Our technology is the newest available and is more gentle, and less invasive.

Hate having your eyes dilated? Our HD Retinal Photography gives you the results of a dilated examination without the need for chemicals or hours of blurry vision. It also gives you a medical photo that we can use to monitor your eye health for years to come.

Tired of scratched lenses? Our products are high-quality and we use industry-leading optical labs. We use only the best products for you and tailor these to meet your needs.

Have you seen someone else wearing your glasses? We have some styles limited to a few offices in the bi-state area and we don't automatically reorder the same frame when you purchase one.

Need longer temples or a different color? We know that we are all different … we can order what you need to see and feel your very best and truly customize your eyewear for you.

Experience counts.With over 40+ years of combined experience in the eyecare industry, we truly know how to make you see your very best. We customize your eyecare experience by helping you choose the best frame and lenses for your prescription and personal style.