These Clic magnetic readers are becoming very popular. Apparently, we are about the only people in town with them, and our first order was almost gone in just a few days, come see what we have in now, and tell all your friends.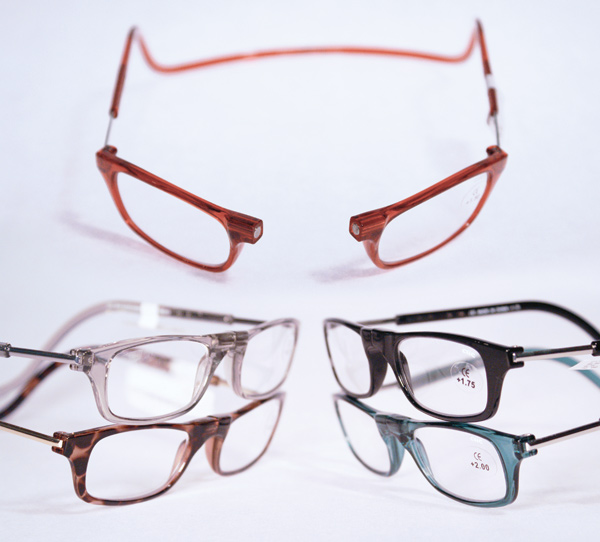 ---


This Fall, retro glam and vintage styles from the 60's and 70's are huge in fashion eyewear. Everything from rounded squares to oversized rounds, paired with abstract tortoise patterns, and bold colors.

Eyewear is the fashion accessory of choice and is an absolute must-have when it comes to making a fashion statement. And why not - its one of the first things people see on your face. With eyewear being one of the hottest accessories right now, it has become a staple piece in wardrobes of both men and women.

As the most prominent accessory on your face, your eyewear speaks volumes about you and your personal style, so make sure you express yourself well! You want to create an eyewear wardrobe so you have plenty of options to choose from. One pair of shoes would never do, so why limit yourself to one pair of eyeglasses or sunglasses? Your look changes from day to day and so should your eyewear! Eyewear is a great way to add a personal touch to your style so have fun mixing and matching eyewear with different outfits to create the perfect look for you!

Come into Contemporary Vision Center and indulge in the most fabulous fall fashion eyewear in St. Louis. Get your personal styling today!

(Not all of our lines are represented here, and specific frames photographed are not necessarily representative of what is available in the store at any given time.)

Women's Fall Fashion
The 70's rave from last season picks up steam, but this time with a splash of 60's persuasion for frames that will leave fashionable femmes wanting more. Frames have retro glam appeal in circular styles - from rounded squares to oversized rounds.